Dr. Thakkar has been offering exceptional patient-focused healthcare since joining Golden Rule Family Practice in September 2011.
Years of experience working for larger organizations have taught him that patients like to see the same doctor whenever they wish. He feels that he is finally able to practice medicine the way he wants to, without all the strings attached with a larger organization. He believes that smaller practices can offer better quality care as doctors can really get to know their patients. Patients are not caught up in the wheels of a huge organization where they have to wait weeks for a follow up appointment.
Since qualifying as a doctor in India when he was only 23-years-old he has worked extensively in the United States. His experience in a variety of settings from large hospitals to geriatric care led him to the belief that patients do better with personalized care in smaller settings. It was that philosophy that led him to his own practice where the patient always comes first. Patients are encouraged to learn about their diseases and educated on the available tools of treatment.
Dr. Thakkar speaks English, Gujarati and Hindi and lives with his wife Rina and two children in Naperville.
1992 – 1998 Bachelor of Medicine and Bachelor of Surgery, B.J. Medical College, Gujarat, India
1998 – 1999 Primary Health Center, Kathana, India
2004-2007 Family Medicine Residency Swedish Covenant Hospital, Chicago IL
2007 – 2008 Geriatrics Fellowship, Carle Foundation Hospital Urbana IL
Urgent Care Physician Swedish Covenant Hospital, Chicago, IL.
2007 – 2011 Urgent Care Physician Carle Convenient Care, Champaign, IL.
2008 – 2011 Geriatric attending Carle Clinic Association, Urbana, IL.
2011-current Golden Rule Family Practice Naperville IL
Illinois Permanent Physician License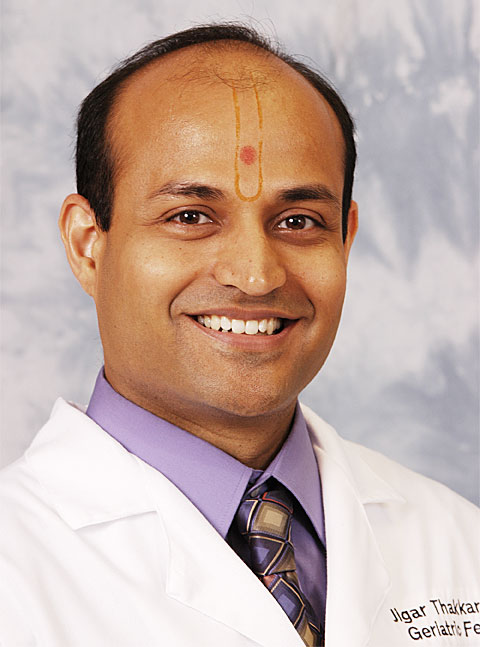 Here patients will always be able to see me within a short time period," Dr. Thakkar said. "I am independent which means I can see them when they need me. At other practices you may not be able to follow up with the same doctor or speak to them after hours. That's not the case here.